It started with a man and a dream. But enough about how Robert Goddard invented the first liquid-fueled rocket. This is a post about the fine, upstanding men of the 2011 Atlanta Braves. And how they look in their uniforms. I promise, there will be some small measure of analysis -- and statistics!
So sit back and make yourself comfortable. Live, laugh and learn.
10. ERIC HINSKE (IF/OF - .349/.373/.587)
Born August 15, 1977, in Menasha, Wisconsin. He's here because I needed to pad this list out to ten. Seems like a nice enough guy, a real team player. He's got a nice smile, I'll give him that. But mostly, I needed ten guys, and he sorta looks okay.
He gets bonus points for: This delightful sequence from the NLDS.
But I like that there were no hard feelings. He even came out to SF to help celebrate during the NLCS.
Image created by Natto, of McCovey Chronicles
9. BRANDON BEACHY (SP - 44.1 IP/3.45 ERA)
The people have spoken. Brandon Beachy kicks Joe Mather off the list, and slides Hinske down a spot to number ten. His 9.3 strikeouts per nine innings puts him fourth in the National League, but I'm rather disappointed his SLG is so low. I should never have drafted him as a middle infielder for my fantasy baseball team. Beachy enjoys broad appeal across the demographics of Braves Country, and I confess he wasn't really on my radar until a massive (five of you) grassroots campaign to include him in the list. I have to say it's a good choice.
He gets bonus points for:That stare. He's clearly looking into the future. And he sees himself.
8. TOMMY HANSON (SP - 53.2 IP/2.35 ERA)
He's a tall drink of water from the plains of northeastern Oklahoma. Historically, it's a zinc-mining region, but Tommy Hanson mines strikeouts. He leads the Braves in strikeouts this year -- ten of them on Monday, May 16, alone. It's been fun to watch him emerge from a rookie just two seasons ago, to a dependable member of the starting rotation. And hey -- he's already had two hits this year.
He gets bonus points for: Being a redhead. You can't tell me you don't love it.
7. BROOKS CONRAD (IF/EMERGENCY CATCHER - .105/.292/.105)
The Raw Dog himself. Some people question my fondness for Mr. Conrad. And I will concede he possesses not the most magnificent face on Earth. But it's what underneath that counts. No, not his drive or dedication to the team. I mean inside his jersey. He has abs that must have been sculpted from pure Italian alabaster, and thighs I'm quite sure could crush many smaller makes of European cars. All that, and he hits grand slams.
Coincidentally, this photo was taken milliseconds before he committed an error.
He gets bonus points for: Handling his difficulties during the NLDS with a quiet grace. I like Brooks, and I was really sorry to see him fumble so badly on the field. Many Giants fans I know felt the same way, and I think many respected him for his perseverance and resilience under what must have been tremendous stress. That's it. No punchline, no snide remark. I admire the man. He's got cajones.
6. DAVID ROSS (C - .313/.371/.625)
Look at this guy. Look at him! You can't help but like him. He's a good teammate. A natural leader. A devoted father and husband. YOUR CANDIDATE FOR CITY COUNCIL!
Sorry. Wrong speech. David Ross is the kind of guy I would have a beer with. And I don't drink. That's how cool he is. It helps that he's good at his job, serving ably beside Brian McCann.He played for teams before his arrival in Atlanta, but his comfort level and camaraderie would make you think he was a lifelong Brave. Maybe Turner Field will be his last stop in baseball.
He gets bonus points for: Being the resident jokester in the dugout. I love to see the boys having fun at work. Ross chats and sings during games, and probably does a little softshoe when the cameras aren't on.
5. A PICTURE OF BUSTER POSEY
Kidding. The actual fifth spot belongs to...
5. CRAIG KIMBREL (CL - 9.1 IP/2.89 ERA/5 SV)
Craig Kimbrel. Craiggers. BlitzCraig. The Guy Who Isn't Wagner. The strapping young gentleman from the rich farmlands of north Alabama goes by many names, all of them synonyms for "a hottie who can strike out four batters at once." The road hasn't been without its bumps, but that's understandable. No one can step into the shoes of one of the league's most well-respected closers in his first full year and get a 100 percent success rate. He's doing the best he can. And you know what? He earned his postgame ice cream.
He gets bonus points for:
Ohhhh, yes.
4. TIM HUDSON (SP - 62.1 IP/3.03 ERA)
Oh, boy. We start getting into some serious territory here. Tim is a dashingly handsome man. Not many guys look dignified with a shaved head, but Hudson wears it very, very well. When he's on the mound, settle in for a good show. Off the field, he and his wife are active in the philanthropic community. His Hudson Family Foundation supports efforts from literacy to scholarships to youth baseball programs. There is literally no way to denigrate this guy. He's untouchable. A big-hearted man goes a long way in my book.
He gets bonus points for: The soul patch. Oh, baby. The soul patch.
3. MARTIN "THE VENEZUELAN SENSATION" PRADO (OF - .296/.338/.450)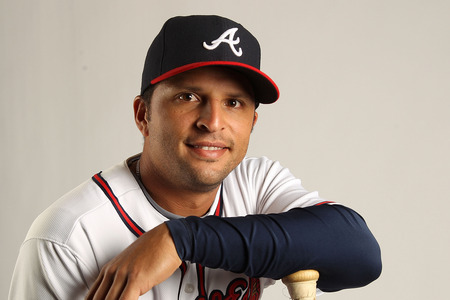 Infielder or outfielder? Tell him where and when, and he'll be there. He'd play the Turner Field organ if that's what Fredi asked him to do. He understands the value of teamwork, and wants to make sure he's doing everything he can to contribute to the Braves' success. His bling shines almost as brightly as his bat. I'm not sure exactly what that means, but he hits singles. Good enough.
He gets bonus points for: Being bilingual. I remember a game last year in which Prado stood between Jerome Jurrenovich and Alex Gonzalez, translating for both men. I like a guy who has a way with words.
2. DAN UGGLA (IF - .196/.270/.375)
I can't stop giggling. He's so cute! Dan has some great physical attributes, from his legendary forearms to those big, blue eyes to a butt that could stop a 30-mm mortar shell instantly. I like beefy guys. Dan is beefy. Using the transitive property, we can then infer that I like Dan Uggla. This postulate is true.
He gets bonus points for: Being more gentle than his outer nature might otherwise indicate. The record shows he forms strong bonds with his teammates, not afraid to show a little affection from time to time. The man is a hugger. If we had more like him, there'd be no more war. Except, you know, hug wars. But those would be more fun anyway.
1. BRIAN McCANN (C - .293/.359/.414)
What can I say about this teddy bear that I haven't already? He's been my favorite Brave since I started watching the team. He is a gentle and good-natured man. He deserves to be more highly touted among catchers in the major leagues. He's a fantastic asset for the team, and a great person to boot. And though I have no proof for this, I strongly believe he's traveled to the Moon on a spacecraft powered entirely by home runs. Brian Michael McCann, everyone.
He gets bonus points for: The picture above. I'm being completely serious. It's mind-numbingly gorgeous.

All right, so let's get some chatter going. Who did I miss? Who would you have put on your list? How is it possible I'm this funny, creative and handsome, and yet still single? The phone lines are open. Let's do this!