It started, as one might expect, with a rain delay. Actually, it started when I was kid, when I first discovered the amazing things a pencil can do when combined with an imagination. But that's another fanpost. Back to the rain delay. I had done an intentionally bad Moylan 'K' graphic in MS Paint, a sort of parody of NCChopper's great work. And it gave me an idea: Why not try to draw a player I liked, just for fun? I already had Paint open, and looked forward to the challenge. I didn't know it at the time, but it was the origin of what became a season-long project to depict the 2010 Braves as I see them.

All pictures link to a full-size version.
May 27: Brian McCann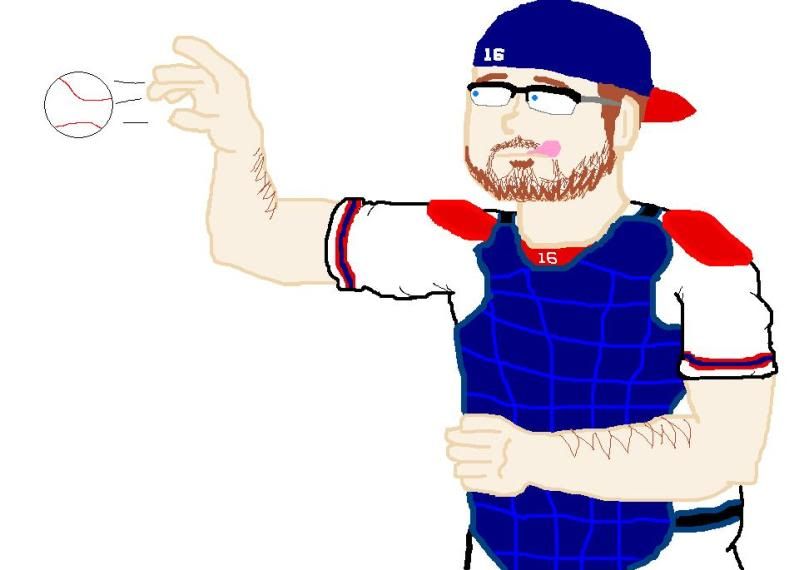 Where better to begin than my designated hugmuffin, Brian McCann? Drawing in MS Paint is a real challenge with a balky mouse. The process was tiring and frustrating, but I liked the results. I especially liked depicting Brian in his sexy librarian glasses, though I think by this point he'd already abandoned them.
I sorta drew this for Smoltz' Beard. I miss that guy like whoa.
June 1: Martin Prado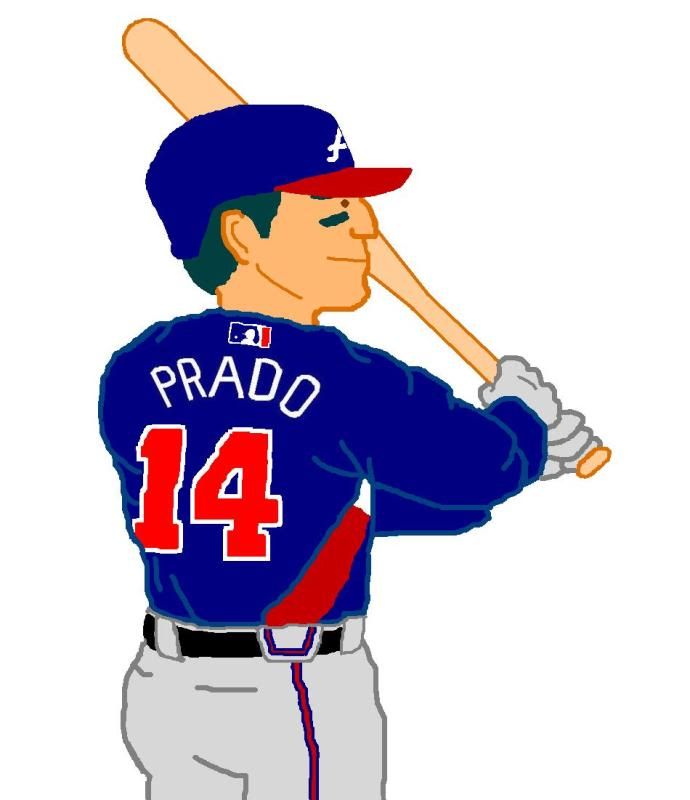 For some reason, I was possessed to endure more MS Paint torture to crank out a picture of Martin Prado. Buzz around Prado was building in advance of the All-Star Game, though he still wasn't well-known on a national level. You can see the mouse was cooperating a little better this time, so Prado's outlines don't look as jerky as McCann's. Most of the comments I received on this one revolved around Prado's butt, I guess because I actually depicted it instead of taking the
Peanuts
route of just leaving him flat back there. But hey, Prado's got the stuff. Might as well show it off.
June 10: Nate McLouth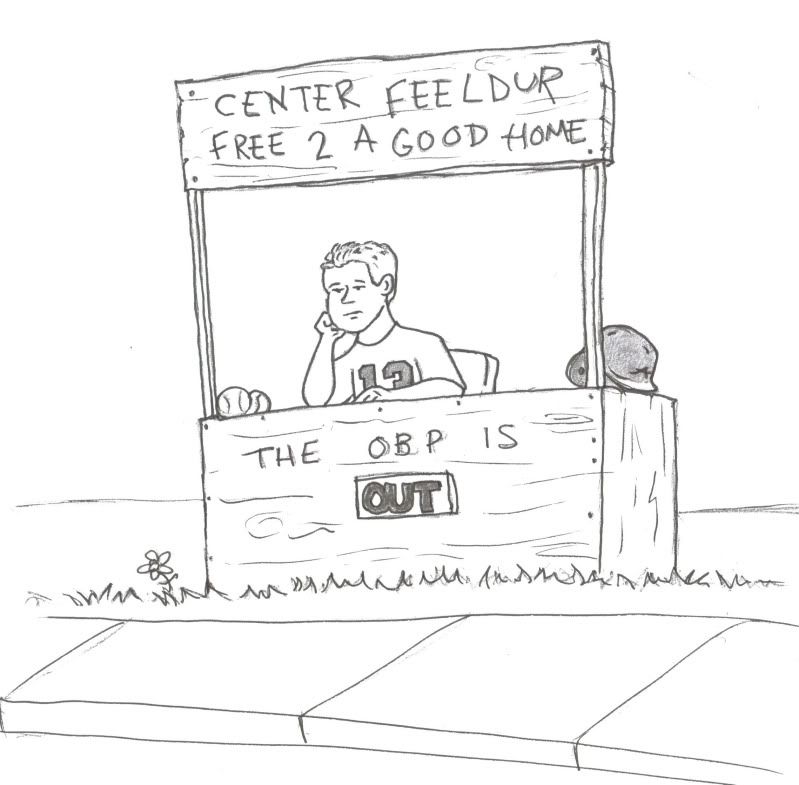 Poor Nate. He's had quite a trip this season. He had a heck of a slump going early on, and it looked like this would be his future. I sketched it on the back of a newscast script one morning, inked it and scanned it when I got home. You can easily see the influence of Charles Schulz, who indirectly taught me a lot about drawing people.
June 17: Troy Glaus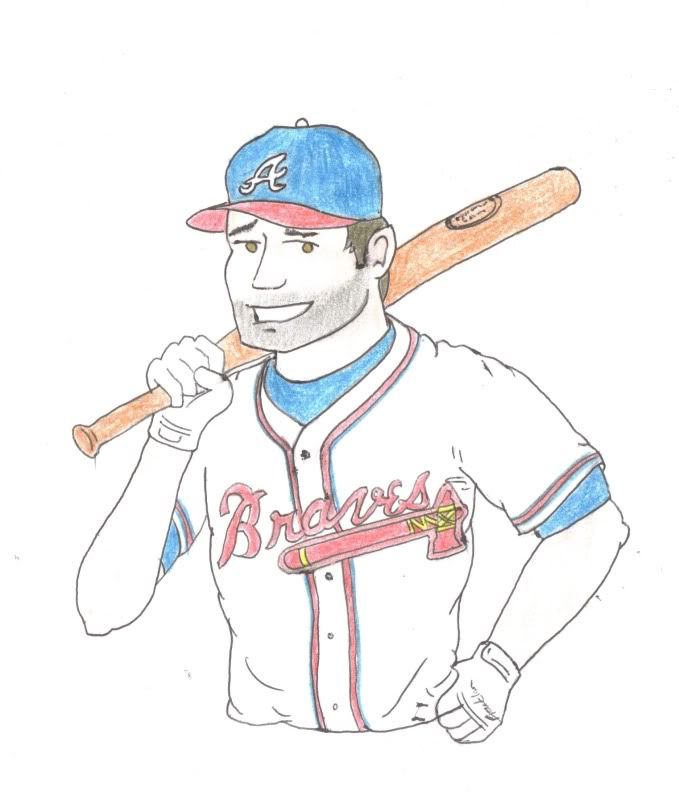 Haters love this guy. For whatever reason, my scanner won't pick up colored pencil very well. It made Glaus' uniform look washed-out and left his body with no skin color whatsoever. Rest assured I did give him a reasonable flesh tone, but the scanner just didn't pick it up.
June 22: Tim Hudson and Matt Diaz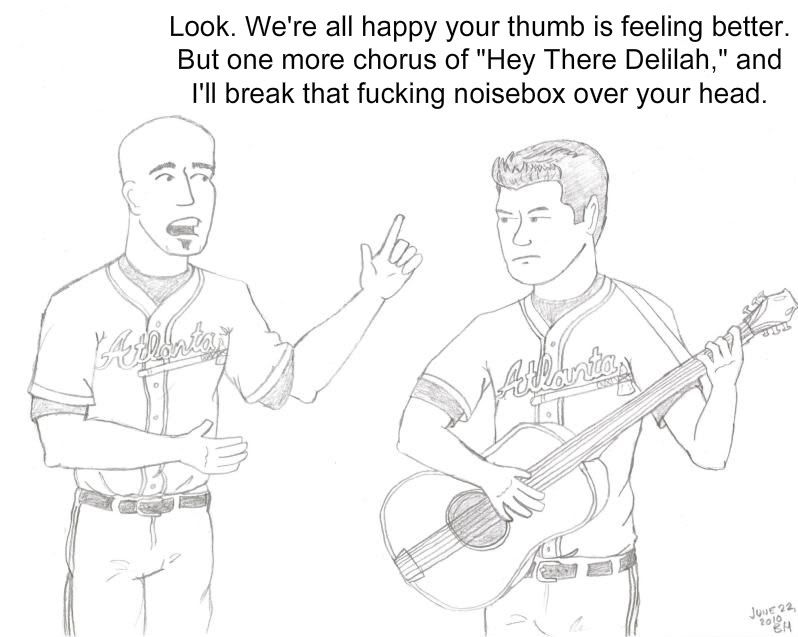 Matt Diaz, recovering from thumb surgery, enjoys a little time with Stella (I always imagined his guitar would have that name). I drew Hudson as a decidedly dad-like character, supporting Matt but warning him of the consequences from one more round of the Plain White Ts. I remember wanting to emphasize Hudson's teeth because they're evident when he talks -- not in a bad way; he has great teeth. I like the way he turned out.
Getting Diaz' hands in the right position on the guitar was a bit of a challenge, too.
This was my first and last experiment with computer text for Huddy's speech bubble. I didn't like the way it looked, so I went back to my own handwriting.
July 7: Omar Infante, with guest stars Tim Lincecum, Joe Mauer and Albert Pujols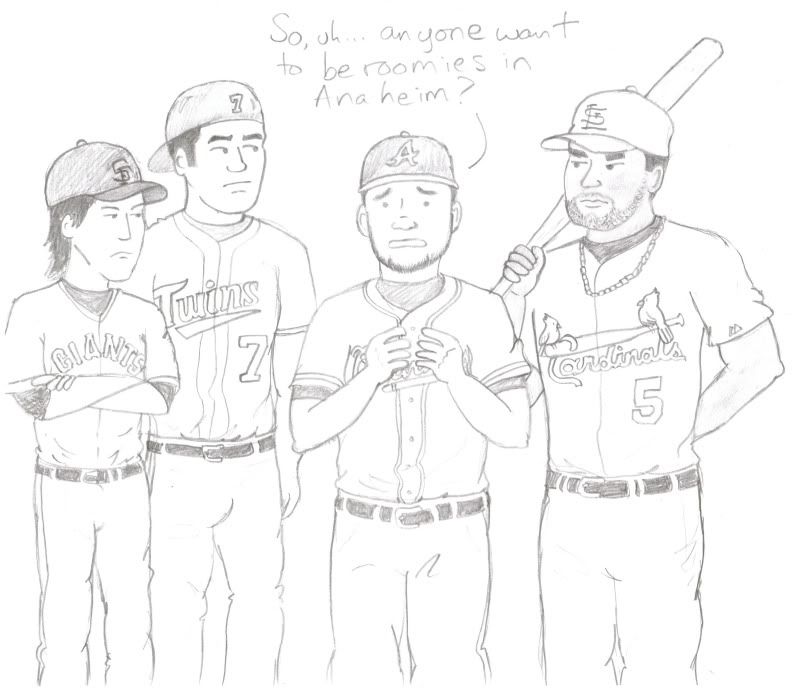 As we hit the middle of the season, rosters for the All-Star game were released. Almost immediately, there was hew and cry throughout the baseball community for the inclusion of one Omar Infante. Selected because of his infield versatility, there was little appeasing those who thought the slot could have been occupied by someone else. Playing off that, I wondered if his All-Star teammates felt the same way. I had fun playing with Infante's emotional expressions, trying to reach that mix of slight fear and hopeful optimism.
I also enjoy the challenge of drawing new people. I'd never done Lincecum, Mauer and Pujols, and it was cool to see the ensemble come together as the drawing progressed. Joe's cup bulge turned out wonderfully well.
July 17: Brooks Conrad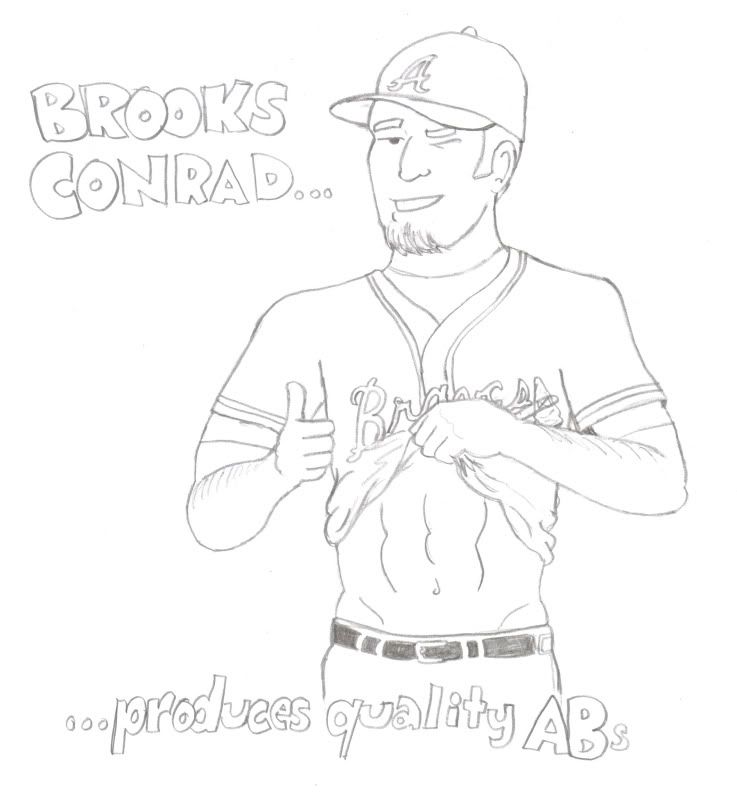 It's true. The man has quality abs. This is based on a photo taken a couple of years ago by the incomparable Lizziebeth, who gave the world a permanent record of a scantily-clad Conrad during rookie hazing. This is about as risque as I've ever gotten on paper, and I'm perfectly all right with stopping it right there.
July 20: Alex Gonzalez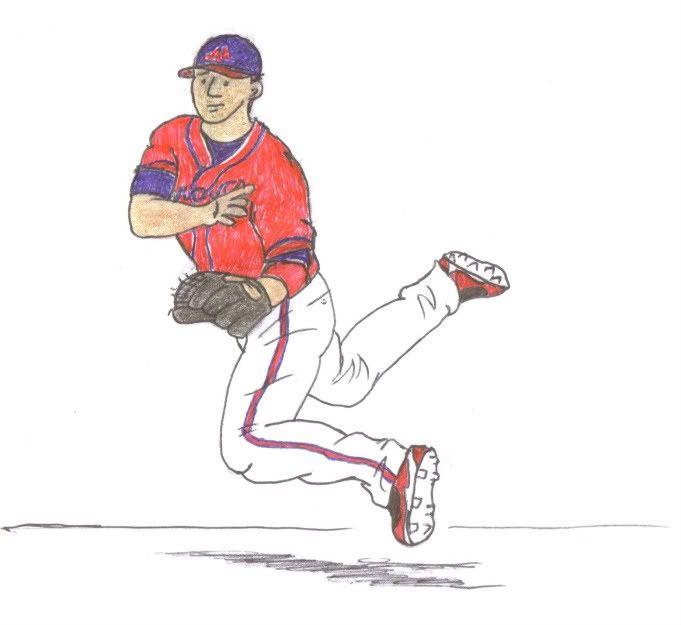 Based on an Associated Press photo. I liked the idea of drawing Gonzalez in a position of action, jumping into the air to deliver a ball to first. Getting his throwing arm just right took some doing, but I like the result.
August 1: Melky Cabrera and Brian McCann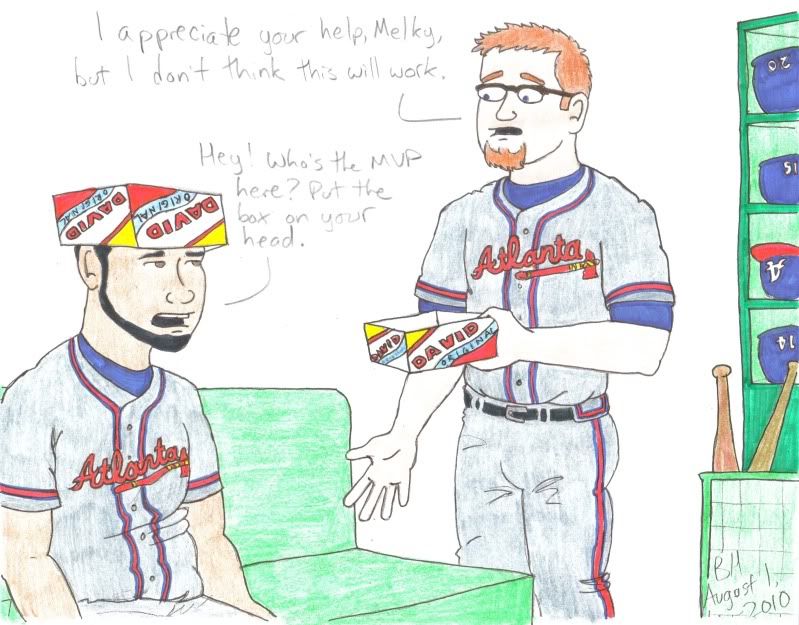 On a sticky Sunday morning in August, I wondered what would happen if All-Star MVP Brian McCann was given advice by TC-anointed MVP Melky Cabrera. The best part of this was trying to replicate the David sunflower seed box from the now-infamous photo. Notice Brian's still wearing his SLC glasses. I didn't like having to trim his beard, but I felt the glasses were enough of an anachronism.
September 1: Tommy Hanson and David Ross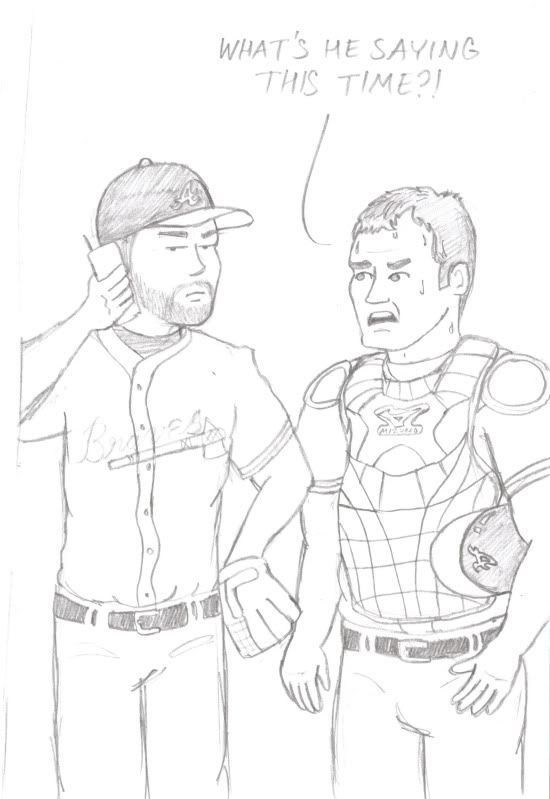 This started as a two-panel drawing of a sofa-bound
Kris Medlen
phoning Tommy Hanson to criticize the latter's pitching. Meds was merely trying to be helpful, but Hanson and his catcher, David Ross, were less than pleased. After yet another jog to the mound, a sweaty Ross demands to know what "help" Medlen is offering this time. I was nowhere near satisfied with Medlen, so I cropped him out of the scan and left only Hanson and Ross (who themselves are unfinished).
September 15: Chipper Jones and Bobby Cox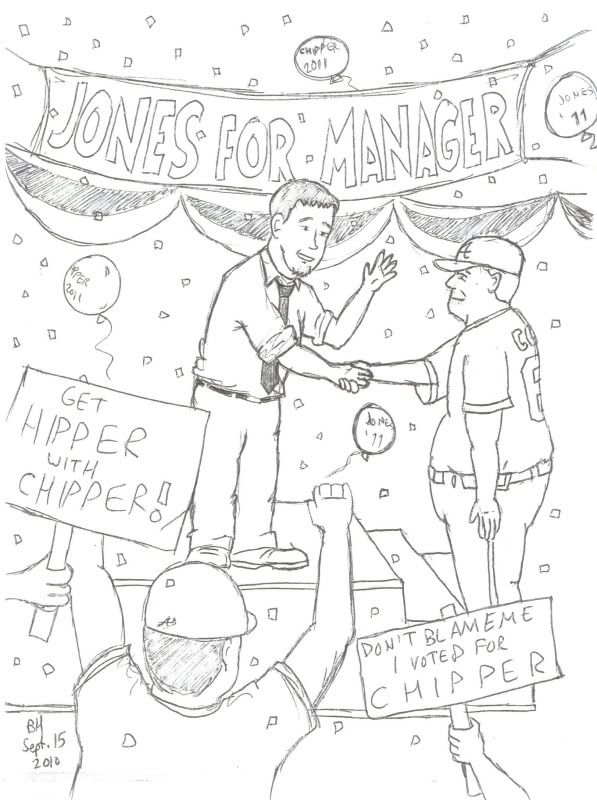 What would happen if you had to run a managerial campaign like a political one? Another back-of-the-script sketch. I liked drawing Jones in the standard man-of-the-people campaign trail shirt and tie. It was a nice break from drawing the guys in uniform. Bobby was a little challenging, but I think he turned out all right. I thought about drawing myself in as a cameo, perhaps as a reporter off to the side, but decided against it.
_________________________________________________________________________________________
That's it. A summer spent with paper, pencil and the Braves. I enjoyed it. I hope you did, too. You can keep up with my madness year-round on my
DeviantArt page
.