Ok, this is only my 2nd(ish) post on TC, so be nice.  I took my first trip to Spring Training this year.  It didn't disappoint, we went all over Florida, and actually traveled too much.  We started out by going to the RussMatt Invitational in Winter Haven, the old Indians Spring Training site, this was pretty cool and had college teams from the Junior College to Division 1 levels.  From there we ventured on to see the Nats and the Braves in Viera at Space Coast Stadium, which seemed like a cool little area.  We also talked to some locals and found it odd that the Nats Spring Training complex is where the Brewers rookie league team plays.  Martiiiiiiiin hit a nice homer(btw except for Heyward he puts on the best BP show and its not even close).  Braves won 5-2 on a very chilly Florida Night.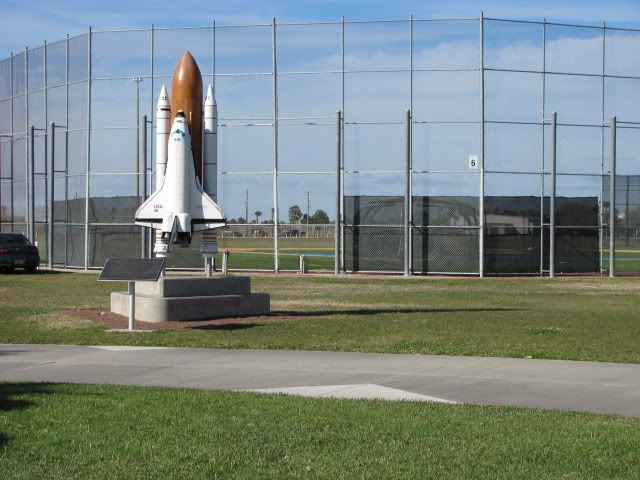 We traveled to Disney for the Marlins and Braves on Tuesday.  Got a good pitching matchup, Jurrjens and Josh Johnson.  I was extremely impressed with Johnson.  This was Jair's first spring start due to the shoulder issues.  We left in the 7th to head up to Gainesville to take in a snoozer of a Florida State/Florida game.  Here are a photo of Chipper and another of Jurrjens.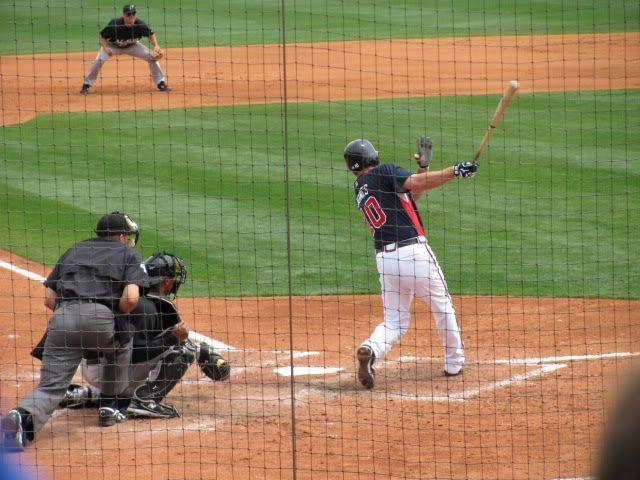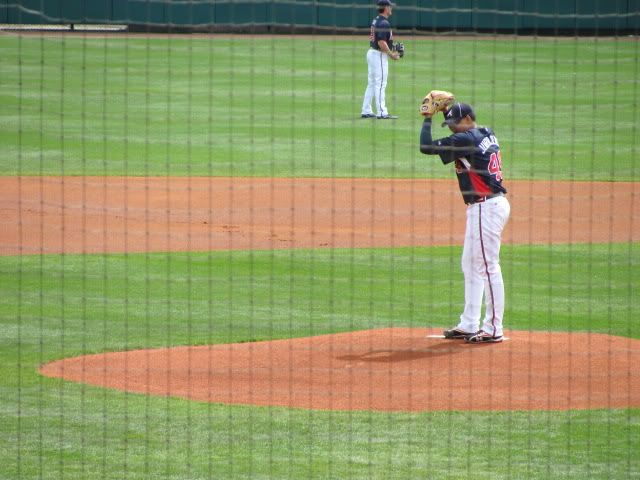 Wednesday we headed south to Jupiter, it was a rainy game that the Braves pulled out.  Tommy Hanson pitched solid and I learned that Chris Coughlan can flat out rake.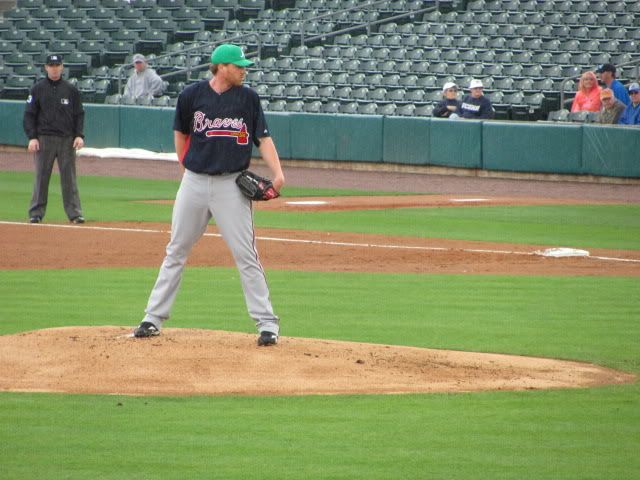 Thursday we got to the complex early to check out the Cards minor league facilities and it was awesome.  There were more Cards fans at 10 am then there were Marlins fans for the game the day before(big surprise I know).  We got to watch their major and minor league pitchers fielding practice and even watch Brad Penny throw a Bullpen session from a distance.  Cards fans were all very pleasant as my dad and I were the only 2 people in Braves gear wandering around the backfields.  I even got a bunch of close pictures of former Brave Ruben Gotay.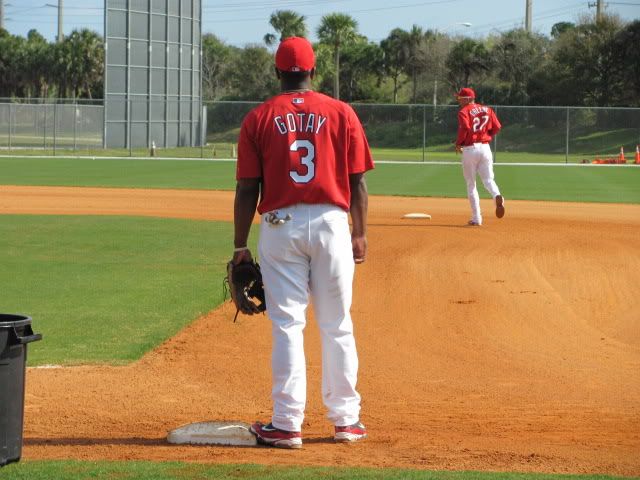 And Chris Carpenter and Adam Wainwright are freaking huge.  Game was good Chipper hit a 450 foot shot off the Marlins clubhouse.  My favorite part of the whole trip was when we went to the Bus entrance and watched the players leave, a few drove on their own and were assaulted for autographs in the 10 feet of open space between the bus entrance and the players parking lot.  Here's a photo of Gregor.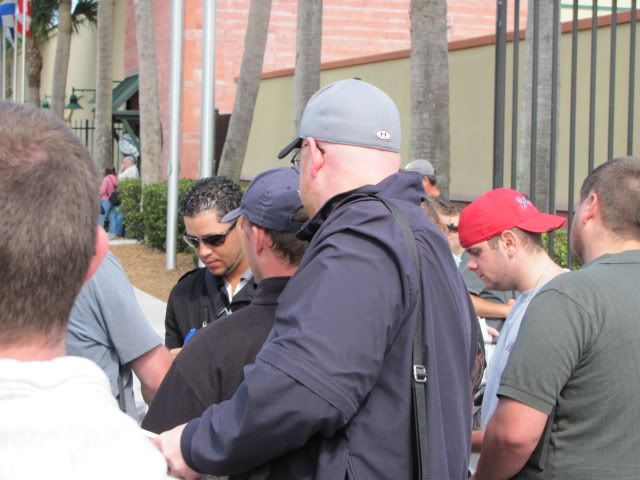 The bus had to back up and as it was I saw Bobby and gave a quick wave, and being the nice guy he is he waved back.  I can now die a happy Braves fan.  I stuck around took some pictures of Fredi Gonzalez and as my dad and I were walking back to the car I see this guy getting into his car and without thinking I yell HEY LEO, and startled Leo Mazzone, I didn't know what to do so I waved, as he did and we both went on our way.   When I go back next year I'm definately going back to Jupiter.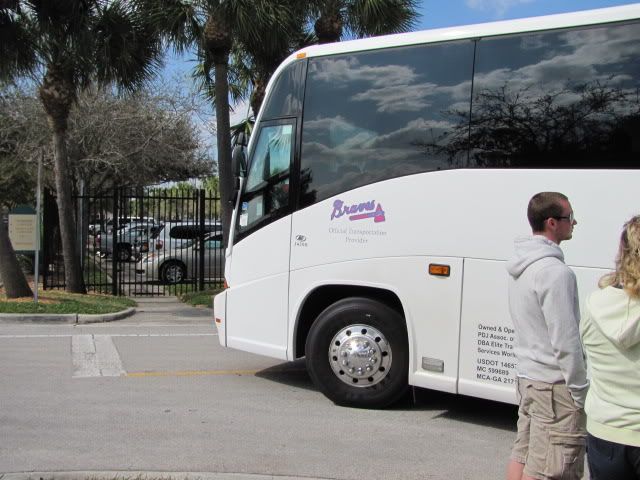 Friday, we took the day off from the Braves and went and saw the Mets and Twins in Port St. Lucie.  I was hoping to see some of the Twins' star players but none made the trip, except for Denard Span(I know hes not a star, but I'm a big fan)  I enjoyed talking smack with the Mets fans and telling them how happy I was that Francourer is their problem now.  BTW he went 0-4 and didn't get the ball out of the infield, and the Mets program stated that Francourer was the steal of the year.  Delmon Young has his eyes on the ball.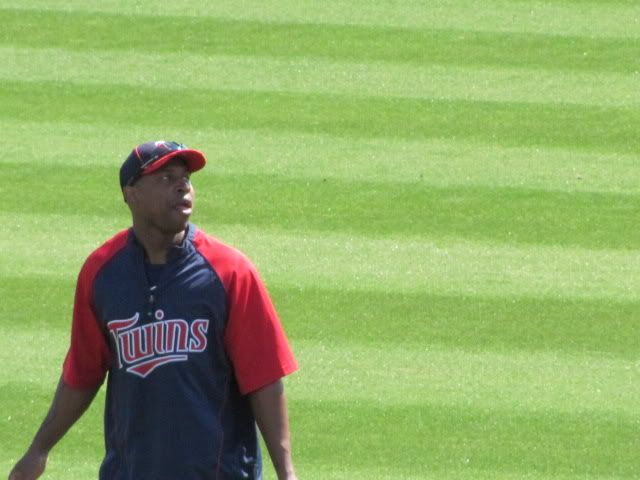 Saturday we were at Dunedin to see the Braves and Blue Jays.  Got their early and positioned near the Braves clubhouse entrance and got some great photos.   Jason Heyward stood there for 20 minutes signing autographs, as did many others including Frank Wren and Bobby Dews.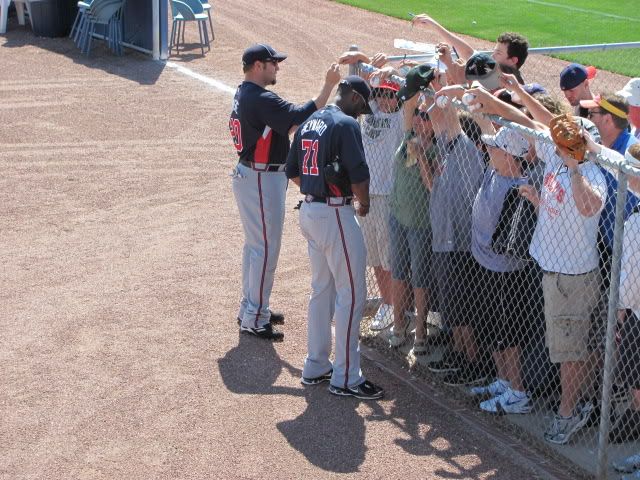 Sunday we made it back to Kissimmee to see the Braves and Cards get rained out.
A few things I came away with.  I really hope Matt Young makes it to the majors at some point and if he was 6 foot tall he would already be there.  I think Prado is going to be our best hitter his year.  Freddie Freeman needs more time to grow into his body, he's a great player now but I just don't see him hitting 20 home runs at the big league leavel for another 2-3 years.  Kimbrel and Venters impressed me, I'm sure they'll be in Atlanta before long.  Eric Duncan was a pretty funny guy signing authographs even though I don't have a clue who he is.  Orlando Mercardo(AA Catcher) also seemed to be a character. 
Spring Training was awesome, and any baseball fan has to go once in their lives.  Dunedin and Jupiter were my two favorite spots due to the close interactions between the fans and players.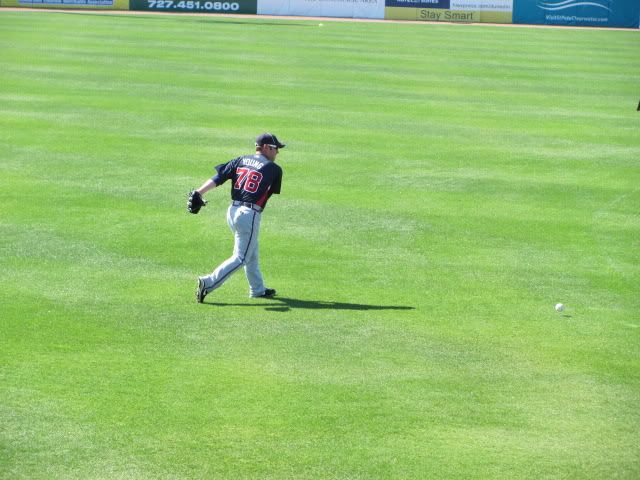 I took about 585 photos from the trip and have posted them here.  http://s973.photobucket.com/home/zames554/allalbums
Take a look, I tried to get game shots and I took alot of shots from before the games as this was the most enjoyable part to me.