ATTENTION: VERY LONG READ, LOTS OF NUMBERS, AND POSSIBILITY OF EXCESSIVE PROSPECT FAWNING AHEAD.  YOU HAVE BEEN WARNED.
I think it is pretty safe to say that Jason Heyward mania is rising to new levels in the Braves community. Personally, I have gone from enjoying yondaime's excellent nightly Minor League Recaps, to them being required reading, to now periodically checking on AA Mississippi's live box score to see what J-Hey is doing.  If he gets a couple more XBH this week, I am going to instruct my girlfriend that I will only respond to the name "Heyward" going forward.  His torrid 2009 campaign has Braves fans asking two questions:
1)      How long does Heyward need at the minor league level to ensure that he has polished his game to the optimal amount?
2)      Based on his minor league production, what could we expect as far as big league performance if Heyward was needed for a playoff run in Atlanta this year?
This post explores the minor league careers of several other top prospects, and their level of success as young players transitioning into the big leagues.  The goal is to gain some level of perspective as to how much Heyward has accomplished up to this point in his career, and what we can reasonably expect from him next. 
Jason Heyward is 19 years old, turns 20 next week, and is currently the #1 Prospect in baseball according to Baseball America.  He bench presses over 2,000 LBS, is dating both Jessica Alba and Megan Fox, and recently completed a unified theory of physics.  It is a nearly unanimous scouting opinion that Heyward's game is extremely polished for his age.  There are no discernible holes in his swing, and his plate discipline is excellent.  I recommend John Sickel's analysis of Heyward and Mike Stanton, which most of you have likely read.
For my part, I had the opportunity to watch Heyward up close and personal 3 times in Spring Training this year.  His reputation as a 5 tool guy is legit.  The only part of his game that did not blow me away was his throwing mechanics, which I found slightly unorthodox.  But he certainly generates plus velocity and accuracy, so it's a moot point.
Next, let's cover Heyward's minor league career to date.
One of the knocks on extreme tools guys is that their obvious physical skills sometimes mask general lack of performance (Further reading: Jeff Francoeur).  Heyward's career line of .321/.390/.513 shows that he is not just another tools player illusion, he has consistently performed. And it has to be done: let's all just gaze lovingly at his 2009 AA line for a minute.  And no, that is not a typo, his OBP right now after 102 plate appearances is FIFTY FREAKING PERCENT!  %&$! I think I need a cold shower.  Let's move on.
Heyward has played in 212 Professional baseball games, and amassed 897 plate appearances.  Has he been seasoned enough to be a contributing MLB player at just 20 years old?  Let's take a look at some of the other super hyped prospects from the past 20 years who have made MLB Debut's at a young age, and see how they stack up. Here is Heyward compared to Alex Rodriguez, Albert Pujols & Ken Griffey Jr.

Obviously this list is a bit cherry picked, because the top three are all Hall of Fame caliber players, but Heyward stacks up pretty well based on the minor league performances.  Note, Griffey's minor league data was incomplete in the RBI, BB and SO categories.
Heyward has already banked more time in the minors then any of these three, and the stat lines are all fairly comparable.  The one category Heyward is behind the pack in is HR.  That doesn't concern me too much, as Heyward has played in some pitchers parks, and hits an absolute ton of doubles.  Also of note is that Heyward has the highest OBP of this esteemed group.  Since OBP is the one stat listed above correlated most highly with winning baseball games, that is just fine with me.
Next is an examination of how these players performed in their first 3 seasons after making the jump.
There is some interesting data here.  A-Rod got a couple cups of coffee before taking over the role totally in 1996, but he put up an absolutely monstrous line in his first full year.  Pujols, after 1 year of JuCo and 1 year of Minor League ball, came out with an absolute MVP caliber season as a 21 year old.  Griffey was slightly above replacement level as a 19 year old, and broke out seriously in his second season.  
Before we start drawing any conclusions, I want to repeat this exercise with players who have come up through the Brave's system as comps instead.  Included are Brian McCann, Andruw Jones, Chipper Jones, and Eddie Matthews.

Now that we are dealing with some (slightly) more mortal players, we are seeing a little longer development cycle in the minors.  Obviously the odd comp here is Eddie Matthews, but I've heard his name tossed around as being a similar player to Heyward so I threw him in there.  
Based on the numbers alone, Andruw had the most eye popping minor league career.  In 1996, he posted a positively absurd .339/.421/.650 between High A, AA and Triple-AAA, which ultimately culminated in a mid August call up to the bigs.  The rest is history, as he had an absolutely torrid post season including 2 home runs in his first 2 at bats in the 1996 World Series.
In terms of HR, Heyward has similar HR per Plate Appearance rates as McCann and Chipper, and lags behind Andruw and Eddie.  Once again Heyward is at the top of the tables in OBP, edging out Andruw.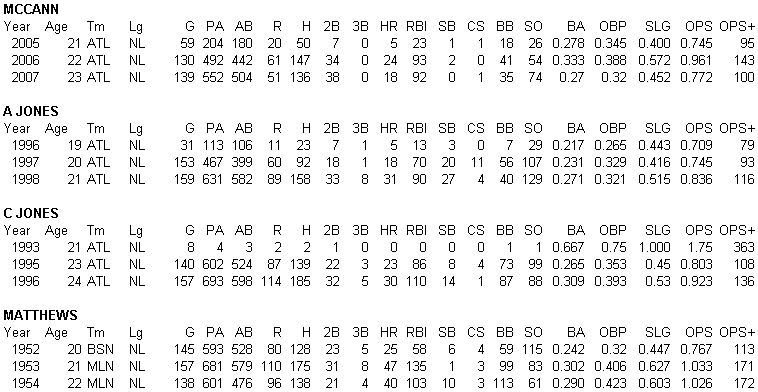 The youngest of this foursome took the longest to really gain traction in the majors.  Andruw didn't really post a line worth noticing until his 3rd year, at least from an offensive perspective.  Matthews broke out as a 21 year old, McCann broke out at 22 years old, and Chipper at 24 years old (But remember, Chipper missed the whole 1994 season with the broken leg).
ANALYSIS
If anyone has made it this far into the post, now I am going to try to draw some subjective opinions from the above mountain of stats.   Please note that I 100% acknowledge that these opinions are from the hip, and not based on any serious methodology besides eye balling the above stats.
Conclusion #1: Heyward's minor league career has been spectacular, and is on par with the minor league career of some of the game's best players.  This is no guarantee of future success, but it is clear that his ceiling is MVP and beyond.
Conclusion #2: If Heyward finishes out this year in AA, he will have near 1,000 PA in the minors.  Based on minor league careers of some of the leagues best players, and taking into account his high level of polish, I would consider his development cycle in the minor leagues complete.  He wont have the seasoning that Chipper, or even McCann got in the minors, but I solidly believe that he can reap no more benefit from anything but the highest level of competition after 2009 is over.
Conclusion #3: It is possible that Heyward could produce in Atlanta tomorrow if we needed, but I think it will take two years to ramp up to the all star numbers that I expect.  A 19 year old Andruw Jones enjoyed a 1996 campaign that spanned from High A all the way to MLB World Series.   This needs to be taken with a grain of salt, however, as Andruw signed slightly younger then Heyward and had another 100 games of professional baseball under his belt by the time he was called up.  And while Andruw was absolutely killer in the 1996 World Series, it wasn't until 1998 that he put up a full season of good offensive numbers in the bigs.
My guess is that Heyward starts 2010 in Atlanta, and posts a solid, but around league average OPS.  In 2011, he breaks out and begins his streak of .900+ OPS seasons.
There is no way to reach a definitive conclusion from this kind of speculation, but this does put some level of perspective on where Heyward is in his career path compared to some of the games best players.
Anything I missed? Conclusions I have reached that are 100% wrong? You read this post to your kids as a sedative? Let me know in the comments.