Tonight's game was full of all sorts of surprises for me. I got a seat upgrade to behind home plate. I got to see the unveiling of the new coke bottle (which is actually pretty cool). I got to see Hank Aaron in person for the first time. And I got to see Francoeur go 0 for 4. Lowe had a decent start. He was a little shaky in the fourth but he kept us in the game. You can read the game recap, so I'll move on.
Frenchy's reception was as expected. He has a loyal following in his hometown. Girls were walking around with homemade shirts reading "OMGZ, bring back Francoeur!" I wish I were kidding. He got a nice standing ovation for his first at bat. I was the only one in my section that didn't stand up and cheer. Sure he's an ok guy, but see my opinion on that matter in another post. I was thrilled when he lined to Prado for that double play. That's the Frenchy we all learned to, err... love? 
And then I looked at the scoreboard... 
In case your eyes ail you, here's a closer look.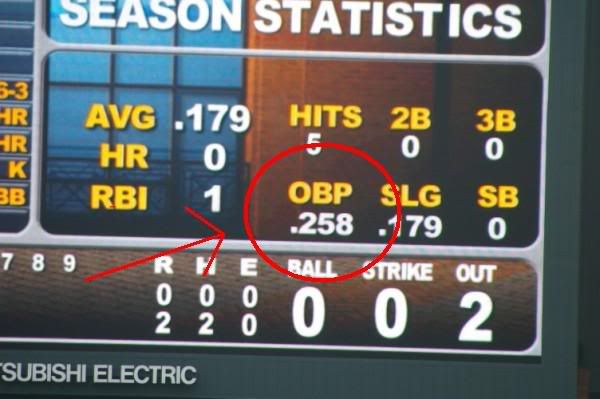 Oh yeah, Jeff. OBP is on the scoreboard.
Here's a picture of the new Coke bottle. It's completely digital around the label. The tomahawk chops across it, it says Atlanta Braves, it does all sorts of neat things.